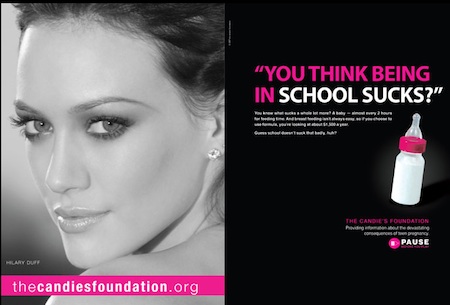 "You think being in school sucks? You know what sucks a whole lot more? A baby…"
That is seriously one of the print ads for an anti-teen pregnancy campaign from The Candie's Foundation that has been getting some conservative/pro-life attention because Bristol Palin is one of its spokespersons. Here's her ad, which is not much better:
First of all, let me just say that babies don't suck. New life is always good and beautiful, even when it comes under less than desirable circumstances. And I just have to ask, what does this "babies suck" message say to those girls who do get pregnant (and aren't fortunate enough to "come from a famous family")? I suppose it could say adoption is a better option than teenage motherhood, but something tells me another "A" word is more likely to come to mind instead. In fact, several people I have talked to about the ad see it promoting abortion more than abstinence.
Look, I'm all for discouraging teen parenthood and promoting abstinence, but this campaign just isn't a good way to do it, IMO. It is, as a friend of mine put it, so "shortsightedly negative." There are better ways to encourage kids to abstain from sex than just trying to scare them into obedience with the horrors of teen pregnancy. Sure, they need to know the risks of sexual immorality, but, let's face it, if there's one thing teens like to do it's take risks as they, for the most part, tend to think they're invincible. Thus, they also need a good, positive and convincing reason to remain pure.
Oh, and about that "abstinence promotion": I've seen this referred to as an abstinence campaign and even saw one person call Palin's ad a "Chastity spot." While the commercials are vague enough to be interpreted as such, that's not exactly the message of the Candies campaign, which promotes both abstinence and birth control as a means of "avoiding pregnancy." From the website:
The overarching message of our campaigns is "…Pause Before You Play": pause to think about your future; pause to think about consequences; pause to evaluate your relationship; pause to delay sex; pause to get a condom; pause to ask "why now?"
I hate to be such a "Debbie Downer" (did I just say that?!?!), but, while I suppose it's nice to see the secular world NOT glorifying sex for a change, I'm still not impressed.