Sweet! Soon traveling dads and long distance relatives may be able to receive pregnancy updates – from the unborn child him/herself! (h/t Mary Meets Dolly)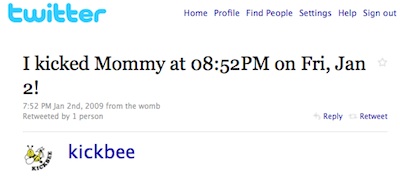 Corey Menscher has designed a belt with vibration sensors attached to to detect movement in the belly of a pregnant woman and infused this technology with social networking site Twitter to send a message – a "fetal tweet" – when a kick is detected. I love how it says the tweet came "from the womb" (click image to enlarge a little if you can't see it).
Find out more about the patent-pending Kickbee on their website or follow them on Twitter.
Gee, more technology recognizing/affirming the life of the unborn – Planned Parenthood will just looove this, I'm sure!