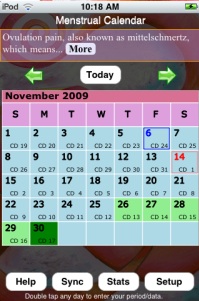 This is brilliant! From the UK Daily Mail (h/t Mary Meets Dolly):
Britain's first iPhone baby is born after couple tried four years to conceive

A woman who was considering IVF treatment has given birth to a baby girl after using an iPhone application to become pregnant.

After four years of struggling to conceive, Lena Bryce and partner Dudley had nearly given up hope of having children, until she heard about the fertility app and downloaded it to her iPhone.

The 30-year-old entered her body temperature daily and the app calculated when she would be most fertile.

After just two months of using the tecnology she fell pregnant.

Last Friday, a delighted Lena gave birth to 6lb 12ozs Lola at Glasgow Southern General Hospital on the exact date the app had predicted.

Lena said she had been considering IVF and adoption, but thought of other ideas when Dudley bought her an iPhone for her 30th birthday.

'I typed in "get pregnant" and downloaded five apps,' the delighted mother said.

'The Free Menstrual Calendar was easiest to use so I stuck with it and in tow [sic] months I was pregnant.
Click on the image above to check out the Free Menstrual Calendar. If that is not a "sign of the times" I don't know what is.
Related video: New Hope for Infertility – NaProTechnology vs. IVF


Previous post:
NFP vs. Contraception