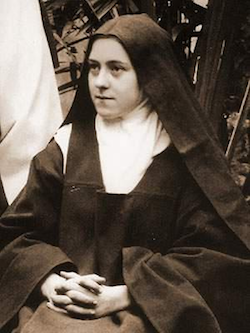 Today the Catholic Church celebrates the feast of St. Thérèse, a lovable little saint whose example of humility and abandonment is a reminder of the strength that can be found when we embrace the limits of our human nature and place all our hope and trust in God who is "more tender than a Mother."
Afflicted with tuberculosis at a young age, a disease which not only caused her much physical pain, but also crushed her dreams of ever becoming active in the foreign missions, St. Thérèse did not allow such afflictions to also crush her spirit. Instead, she threw herself into the open arms of suffering and persevered under trial for the sake of God's love and for the salvation of souls.
What Thérèse understood, perhaps more than any other soul in modern history, is the infinite love that God has for each one of us, regardless of his or her physical capabilities or situation in life, and that this love alone is what gives value and meaning to every human life. In fact, it is precisely to the weak and the small that Christ lets His secrets be known:
"I give praise to you, Father, Lord of heaven and earth, for although you have hidden these things from the wise and the learned you have revealed them to the childlike." (Mt. 11:25)
The Little Flower's "little way" was based on Christ's call for us to become like little children. Little children are so small and weak that they depend on their parents for absolutely everything. To become child-like is to accept weakness and vulnerability in order to be strengthened by the power of Christ:
"My grace is sufficient for you for power is made perfect in weakness. I will rather boast most gladly of my weaknesses, in order that the power of Christ may dwell with me, for when I am weak, then I am strong." 2 Corinth 12:9
Certainly God does not will suffering, which is a consequence of Original Sin. But in His infinite love and desire for souls He makes use of everything, including sickness, poverty, even our own failings so that we may grow closer to Him. Sadly, we live in a world that would rather destroy human life in an effort to overcome human weakness than discover the spiritual benefits and inner strength that can be gained through suffering.
Let us, then, show the world it's folly by imitating the example of this little saint who took Christ's words seriously (Mt. 16:24, Lk. 9:23) and, like St. Paul (2 Corinth 12:10), was content in her weakness and rejoiced in her suffering. For it is when we are weak that we are truly strong (2 Corinthians 12:9) and through our sufferings, united with the Cross, that we are purified and redeemed (1 Peter 1:6-7).
Therese's own words:
The Little Bird -my favorite passage from Story of a Soul, perfectly explaining the little way of spiritual childhood.