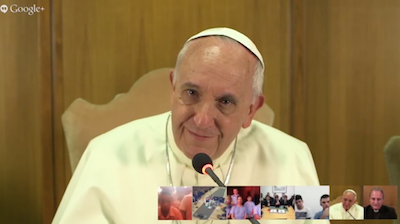 Tomorrow (2/5/15), Pope Francis will be participating in a Google Hangout with a handful of children with special needs and disabilities in various countries (Spain, Brazil, India and the US).
This hangout is in partnership with Scholas Ocurrentes, an educational organization he established.
This will be the pontiff's second Hangout — he held a first, also in partnership with Scholas, back in September, when he also spoke with students.
If you're interested (I know I am!), you can catch the whole event live here tomorrow at 10:00 AM ET.