I mentioned last year that work had begun on a memorial in Germany for the 300,000 people murdered by the Nazis for having mental and physical disabilities or chronic illnesses.
That memorial finally opened last week in Berlin.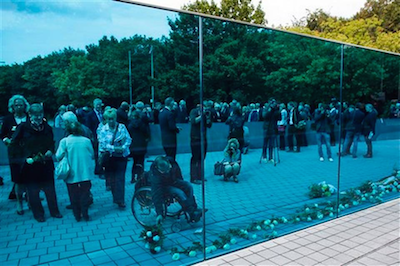 "The Nazi murders of disabled people are among the most inhumane acts of history," said Mayor Klaus Wowereit. "It is high time that these victims of Nazi inhumanity finally receive their own memorial."
Mayor Wowereit was joined by relatives of victims and members of the public who all lay wreaths and white roses in front of the 100-foot-long, blue glass wall of the open-air memorial and permanent exhibition.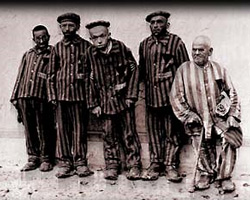 "We must denounce the inhumane distinction between a worthy and an unworthy life," said Monika Gruetters, Germany's state minister for culture and media. "Every human life is valuable – that's the message of this memorial."
As I said before, this is the part of the holocaust that people need much more education on. I'll never forget being told by someone that he thought only Jews were exterminated in the holocaust!
What perhaps needs to be understand above all is that the Nazis were actually inspired by a pre-existing eugenics movement that advocated the destruction of Life Unworthy of Life. A movement propagated, not by Hitler, but by high-profile German intellectuals and other "medical professionals."
This is why statements like the ones recently made by humanist and darling of the intellectual community Richard Dawkins about the "morality" of killing unborn children with Down syndrome should not be taken lightly.
Unfortunately, Dawkins is not alone. Much of the West, it seems, has failed to learn from history and continues to accept that there is such a thing as unlivable, unworthy life. And it's not limited to just some lofty intellectual idea.
His comments may have been crass, but Dawkins was correct about one thing, the majority of children prenatally diagnosed with Ds ARE currently being killed in the womb. But that's not all. In the Netherlands, doctors kill babies with serious or terminal disabilities after they're born.
Also on the rise in the Netherlands, as well as in Belgium, is euthanasia for people with serious physical and mental illnesses. And the so-called "right to die" is slowly spreading to other countries, including the United States.
Right to Die? Watch Out. Another Forgotten Holocaust Fact
What short memories we have!
Once upon a time physicians and medical professionals — believers and non-believers alike — swore an oath to recognize and uphold the dignity of their patients and "never do harm" or administer deadly medicine to anyone – even when asked. Now, not only do we not require such an oath to be taken anymore, but for those who do take it we've changed it into something more politically than medically correct.
Any reference to never administering deadly medicine has been removed and replaced with a vague pledge to "tread with care in matters of life and death."
A physician's job is to heal, not kill. Death is never medicine, no matter how permanent the diagnosis or how much pain the patient is in. We may not be directly headed toward mass murder of the kind that happened in Germany in the early half of the 20th century, but we're still in for a world of trouble once we start making death an acceptable "treatment" for pain and suffering.