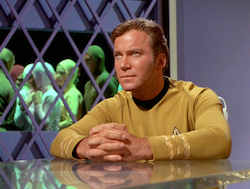 Does our culture have a love/hate relationship with babies? Is Captain James T. Kirk captive to the culture of death? And what does Pope Francis mean by an "ecumenism of blood?"
I had a good time talking about all of the above on the Mike Allen Show yesterday with the ever-awesome Jason Hall, who is the associate director of the Catholic Conference of Kentucky and, more importantly, a dear friend of mine:
If you like what you hear, click here to show Real Life Radio some love. You can listen to some of my past appearances on Mike's show here.