To love at all is to be vulnerable. -C.S. Lewis
See the original comic here. The full version of the quote, taken from Lewis's book, The Four Loves, reads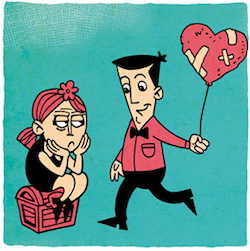 "To love at all is to be vulnerable. Love anything, and your heart will certainly be wrung and possibly be broken. If you want to make sure of keeping it intact, you must give your heart to no one, not even to an animal. Wrap it carefully round with hobbies and little luxuries; avoid all entanglements; lock it up safe in the casket or coffin of your selfishness. But in that casket — safe, dark, motionless, airless — it will change. It will not be broken; it will become unbreakable, impenetrable, irredeemable. The alternative to tragedy, or at least to the risk of tragedy, is damnation. The only place outside of Heaven where you can be perfectly safe from all the dangers and perturbations of love is Hell."
This reminds me of something Carl Anderson and Fr. José Granados wrote in their book Called to Love: Approaching John Paul II's Theology of the Body
It's true, of course, that everyone who loves sooner or later gets hurt. Yet this very risk of pain has a positive side: By taking us out of ourselves, emotions are an entryway into the world of other people. By coming to share in that world, we learn to live more richly. And this is surely a risk worth taking.
For most of us, the call to love resounding in our bodies invites us to go out of ourselves and to build a world together with another. God will, for the most part, influence our coming into contact with a potentially suitable partner. But, then it is up to us to take action, to go out on a limb and open ourselves up to them in order to find out if they really are the one for us.
There is always a risk involved in this openness, of course. Feelings may not always be mutual and it may end up hurting in the end, but love is a risk worth taking. There is always something to be gained when we go outside ourselves and learn to share in someone else's world, even if only for a short while. This is true whether we're talking about romantic love, friendship or just the daily struggle to love our neighbor.
"Man…cannot fully find himself except through a sincere gift of himself" Gaudium et Spes, 24
Good advice: How God works in bringing people together