Jennifer Lahl writes: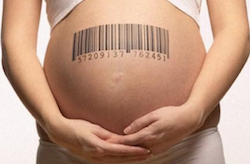 I'm just back from Charleston, South Carolina, where I attended the American Academy of Assisted Reproductive Technology Attorneys (AAARTA) professional conference. I listened in for three days on presentations addressing all things associated with third party reproduction from the perspective of lawyers, lobbyists, and advocates for LGBT rights and expanding global laws. I learned a lot.

Much of what I learned disturbed me. I hope to write more about the different sessions at the conference moving forward.

One thing that really bothered me, though, was how every presenter called women "carriers" and "donors". It was especially bothersome against the background of the slave history of South Carolina. While I was there I toured the city, visited The Old Slave Mart Museum, and learned about the early history of the slave breeders.

It appears we have not learned from history.
Carriers, donors. The labels they use don't even sound human. How about just…women?
The baby-making industry has absolutely no respect for the women it depends on to put their bodies on the line in order to obtain the "raw materials" needed for their experimentation.
Previously:
Enlightening Interview with Egg Donor Recruiter
Porn Not the Only Industry Commodifying Women