Fr. Peter West takes a look at homosexuality and the Theology of the Body: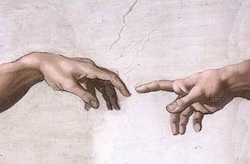 Polls show that most young people today, even those who identify themselves as Christians, have no problem with "same-sex marriage."

If young people today are at all aware of what the Catholic Church teaches about marriage and human sexuality, what they think they know is often only a caricature of the truth. They see it as simply a set of prohibitions established by men. But what the Church actually presents is a vision of the beauty of marriage as a sacred union between one man and one woman who are committed for life and open to the transmission of new human life. With this vision, "same-sex marriage" is an oxymoron, making about as much sense as a "squared circle."

"Same-sex marriage" has been presented to the public as an issue of fairness. But the worst form of inequality is to try to make unequal things equal. Leaders in the homosexual movement have themselves admitted that the promotion of "same-sex marriage" is a device to destroy the institution of marriage. A poster at a homosexual conference called the National Conference on Organized Resistance in 2008 read "Marriage is the proverbial burning building. Instead of pounding on the door to be let in…queers should be stoking the flames!"

Of course, our understanding of marriage has been damaged by the fruits of the sexual revolution: no-fault divorce, cohabitation, contraception, sterilization and abortion. What is our problem with changing the definition of marriage to accommodate same-sex couples? Are we being "unfair"?
Read more!! Part II coming soon!