I meant to post this last week:
A kiss is not just a kiss to actor Kirk Cameron of Fireproof, a movie about the importance of preserving marriage and what it must be founded on. During an interview on the Today Show last Tuesday he revealed that the woman he is seen kissing in the movie is not the lead actress who plays his on-screen wife, but Cameron's own wife in real life, actress Chelsea Noble. The decision for the on screen wife swap was because, he said, "I have a commitment not to kiss any other woman." Call me crazy, but I'd be willing to bet that keeping your hands and lips off of someone who is not your spouse is at least one good way to preserve a marriage – even if it is only "acting."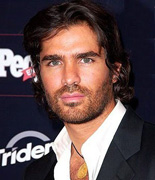 Cameron is not the only actor who understands the intimacy of a kiss. Bella star Eduardo Verastegui (whom I met very briefly in STL last year, see post) has vowed to do no more on-screen lip-locks. From an interview with Celebrate Life magazine:
"When you kill somebody in the movies, you're not killing anyone. But when you kiss someone, it's really a kiss," Eduardo stressed. "In sex scenes, you're really half naked. So I would recommend that people be careful, because you are working with fire and you're gonna get burned. Don't risk yourself for some role. I know because I did it. And I'm telling you, 12 years of that was nothing but emptiness, pain and suffering." Eduardo described sex scenes as what they are: "legal adultery." And because a kiss is sacred, he vows to kiss no woman unless she's his wife.
See my Path to Holiness post: "Bella" Star Seeks Holiness in Not-So Ordinary Life
The body has a language and we must speak it truthfully. Even "just a kiss" is an extremely intimate act, especially between a man and a woman, meant to express affection, love and devotion.
Fireproof opened in theaters this past weekend and if the estimated calculations are accurate it looks like it was the #4 movie in America over the weekend. A reader who saw it recently commented:
This movie is wonderful it really hit home thank God for this Christian movie I encouraged all married couples to go and check it out.
See my post Fireproof, Marriage and World Peace. Related story: With the help of God, marriage crises can be overcome, says Pope