TIME Magazine has a provocative new cover for it's January 14 issue commemorating the 40th anniversary of Roe v. Wade: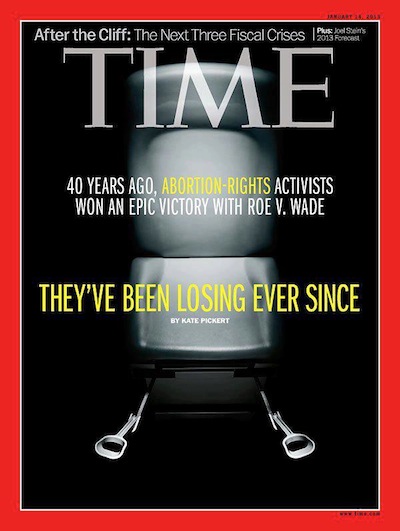 If you can't quite read that, it says: "Forty years ago abortion rights activists won an epic victory with Roe v. Wade…And they've been losing ever since."
Really, after 40 years of legalized abortion and 55 MILLION unborn children killed, it doesn't seem like abortion rights activists have lost much ground. But, as TIME writer Kate Pickert explains, the movement to protect unfettered access to abortion has dwindled over time, thanks, in large part, to prenatal ultrasound and advanced neonatology, among other things:
The cover article by Pickert is available by subscription only, but Jill Stanek has excerpts of its major points.
While this is encouraging, let's not forget that the biggest losers here remain the unborn children who, despite the fact that the number of Americans who identify as "pro-choice" is at an all time low, are still losing their lives at an astronomical rate.
Also in TIME online is Susan B. Anthony List's Emily Buchanan on why "Pro-life and feminism aren't mutually exclusive." Check it out.