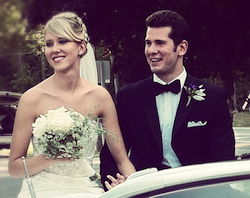 Conservative pundit/comedian Steven Crowder gave a great presentation at the Values Voter Summit last weekend. At around the 5 min mark Crowder, a newlywed, starts to get serious about our culture's attitude towards the sanctity of the marriage and the marital act. However you may feel about his delivery style, he made excellent points about just how little value the world places on the institution of marriage and how we're raising an entire generation of children who are ridiculed, mocked and laughed at if they choose to put off sex until their married and walk out their faith-based principles — not to mention singled out by every single film, tv show, radio station or band they choose to watch.
Indeed, it's not easy to promote traditional family values in our casual-sex-saturated culture, when more people are opting for cohabitation instead of marriage and over forty percent of the children born in the US today are born to single mothers. But, for the sake of future generations, we must press on. Society may have radically changed in the past 50 years, dulling our moral sensitivities, but the truth of who we are has human being has not and reclaiming this truth is paramount to building a true culture of life.
We can start by leading by example and living this truth in our own daily lives.
Do not conform yourselves to this age but be transformed by the renewal of your mind, that you may discern what is the will of God, what is good and pleasing and perfect. -Rom. 12:2
Be sure to read Crowder's columns on his own experience of choosing abstinence before marriage and how that has enriched his relationship with his now wife:
Why NOT Having Sex Might be Good for You
Waiting till the wedding night – getting married the right way