October Baby is a new movie about a young woman who finds out that not only is she adopted, but she is the survivor of an attempted abortion. Needless to say, it's gotten quite a bit of pro-life buzz, especially in the past week, so I"m sure many of you have already heard of it. Here's the trailer:
When abortion fails a child is born…alive. Some are put on shelves to die, some live to tell the tale — and their voices are powerful. From my understanding, October Baby is inspired by the story of Gianna Jessen. If you've never heard it before, do check out Gianna's hard-hitting address to the Australian Parliament a few years ago. Another survivor, Melissa Ohden, is also an amazing witness.
October Baby opens today in select theaters. I haven't seen it yet, so I can't review it for you, but these people can: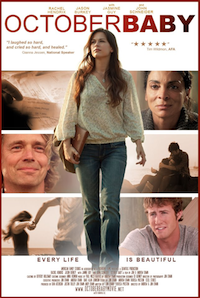 Steven D. Greydanus
Sr. Helen Burns
And over at Catholic Lane, Kay Anne Kelly gives a thorough synopsis/review and then sees a connection between October Baby and the Battle of Lepanto:
And that bit about Lepanto in the title? Well, just guess when Hannah was born…..October 7th. The film makers are not Catholic and may not have known the significance of that date to faithful Catholics, but we sure know who our big gun is in a spiritual battle. With Our Lady of Guadalupe on deck and the faithful of Christendom abiding Pope St. Pius' command for the Rosary to be said for victory over evil, it took one more thing to tip the scales in this famous battle. The Christian slaves who were forced to row the Turkish ships rebelled and, several thousand strong, stood up to their oppressors, turning the tide of the battle and helping to save all of Europe from Muslim invasion. When those who have been enslaved to the abortion agenda rise up against the evil that has oppressed them, the tide will begin to turn. Look no further than Abby Johnson.
It doesn't look like the movie will be playing anywhere near me this weekend. What about you?