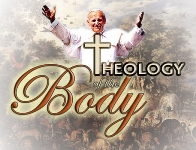 Ascension Press anounces some new resources from Christopher West on the Theology of the Body. Each series has everything you need to lead your own TOB study sessions. Because our society has been living in utter darkness regarding the truth and meaning of human sexuality, of the human person, this is an important message to study and share with everyone we know. JP II biographer George Weigel called TOB the pope's:
"longest-lasting theological contribution to the Church…a bit of a theological time bomb…that would explode within the Church at some indeterminate point in the future…reshaping the way Catholics think about our embodiedness as male and female, our sexuality, our relationships with each other, our relationship with God – even God Himself"
These new resources incorporate the updated translation of the original TOB text that includes some undelivered audiences reflecting on the Song of Songs and the book of Tobit.
The New Stuff:
The Gift: Your Call to Greatness (see a sample video clip)
An Introduction to the Theology of the Body: Discovering the Master Plan for Your Life (see a sample video clip)
TOB isn't just for Catholics. Christopher West has a free download of a talk given to a protestant audience: Theology of the Body: A Bold, Biblical Response to the Sexual Revolution
Here's a pic of me with Christopher West in KC this May: