St. Maximilian Kolbe is typically considered the patron saint of drug addicts/against addiction and Venerable Matt Talbot is also frequently called on to help those with addiction, but St. Mark Ji Tianxiang might be worth praying to for help as well.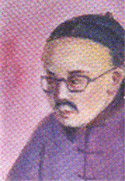 I've never heard of him until I read this article recently. St. Mark is one of the Chinese martyrs and, apparently, for the last 30 years of his life he was barred from receiving the sacraments because he was an opium addict.
It doesn't sound like he was totally freed from addiction before he was martyred, but he tried and always prayed that he would be, so I'm sure he'd be a great intercessor for others who want freedom.
Deacon Greg Kandra delivered a wonderful homily in September about St. Mark and how, as the saying goes, a saint is just a sinner who keeps on trying. His memorial is on July 9, with the other Chinese martyrs.
related posts:
A Path to Freedom and Peace for Young People With Addiction
TOB Tuesday: Healing the Person
Sterilizing Addicts Doesn't Fix the Real Problem