Greetings from the Sunshine State – where we're guaranteed to have a white Christmas this year! Here I am at what has been my "office" since last Saturday and will be for the next five weeks: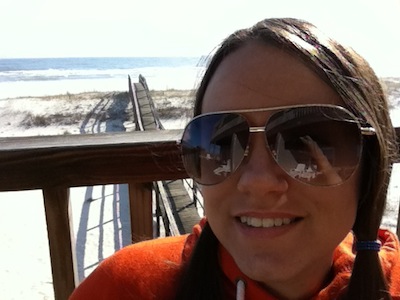 It does not suck. Crash doesn't think it sucks, either
I wish I could say that it's been that sunny and warm everyday, but we've had quite a bit of rain and, for the most part, it's been pretty cloudy and windy and chilly. BUT it's warmer than mid-MO and there's a beach, and that's all that really matters, isn't it? We're on the panhandle, about as close to Alabama as you can get. So close, in fact, my mother and I have been going to daily Mass at St. Thomas by the Sea in Orange Beach.
So far things have been pretty relaxing. We haven't been doing a whole lot; just getting ready for Christmas (I'll be making some awesome Sauerbraten for Christmas dinner again this year). Next week I'm going out on a fishing boat with my dad and sister, but what I'm looking forward to the most is heading over to Jacksonville on January 2nd. for Florida vs. Ohio State at the Gator Bowl. I haven't been to a Gator game since I was a little girl! Go Gators!! –,==,< Needless to say, I've been a little...distracted the past few weeks. There have been so many things I've wanted write about, but taking time to collect my thoughts and write on my blog has taken a back-seat to other work that needs to get done in between all the packing and getting ready to be away from home for six weeks, travelling, and now hanging out with my sisters who I never see anymore. Hopefully things will settle down here in the next week and I can focus a bit more on my writing – which is my New Year's resolution.
In the meantime, I hope you all have a wonderful, blessed Christmas wherever you are. Here are a few more pictures of the beautiful view from our place.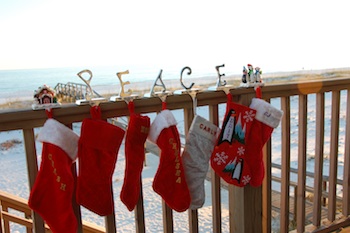 Sunrise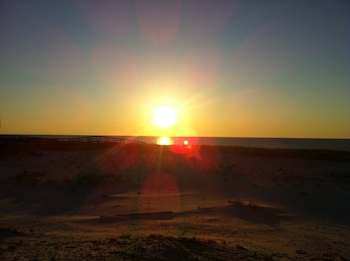 Sunset