Time for the week four Theology of the Body Advent reflection from the TOB Institute. This time from Fr. Patrick Nwokoye: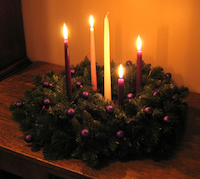 Two weeks ago, I was in Bethlehem where our Savior Jesus Christ was born. As I walked through the town amidst thousands of pilgrims, I wondered what it must have felt like two thousand years ago, how our world would be changed forever by this singular event! I also wondered what the Blessed Mother was going through, what Joseph was thinking about and the hopes and fears of the soon to be parents.

All of these 'wonderings,' though natural, quickly made way for something greater – the miracle of two thousand years ago. As I entered the church that now houses the place where Jesus was born, I experienced evermore that God became man – the Word of God became flesh and made his dwelling among us. It is quite humbling that God will make his dwelling amongst us, and yet that is exactly what we are about to celebrate!
Read the rest! I can't believe Christmas is only FIVE days away!!