Note: this should have been posted yesterday for TOB Tues.
On Sunday the Catholic Church confirmed what most of us already knew and what God Himself made known through at least one miracle – that John Paul II is in heaven…and interceding on our behalf! Soooo…does this make me a relic?? 😉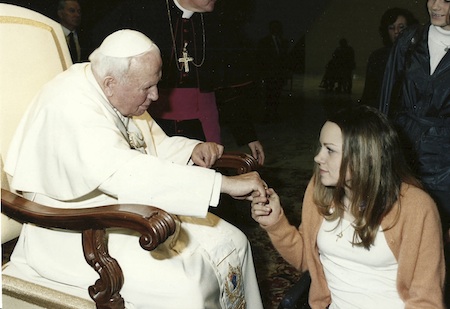 Of all the things that John Paul wrote and spoke about during his pontificate, papal biographer George Weigel says his "longest-lasting theological contribution to the Church" is what is now known as the Theology of the Body. Weigel called it a kind of "theological time bomb" that would "would explode within the Church" at some point and:
(reshape) the way Catholics think about our embodiedness as male and female, our sexuality, our relationships with each other, our relationship with God – even God Himself
For those who aren't familiar with it yet, the TOB, a collection of 129 Wednesday audiences given between 1979-1984, is JPII's vision of the human person and what it means to be made in the "image and likeness of God." In it, he encourages a true reverence for our bodies and the gift of our sexuality and challenges us to live it in a way worthy of our great dignity as human persons (from the TOB website). It is worth noting that in terms of theology and Church teaching there is nothing "new" in the TOB. JP II just provided a new focus, a new emphasis on certain things, connecting a few dots and tying up a couple of strings that have been lying dormant for centuries.
As hard has it is for the layman to understand, the TOB is not some stuffy intellectual commentary, but is rich with pastoral experience and ready-made for pastoral effectiveness. And he did not simply deliver the wednesday audiences that made up the TOB early in his pontificate and never return to the subject again. Many of his magisterial documents contain elements of the TOB including:
Familiaris Consortio
The Letter to Families
The Letter to Women
The Dignity and Vocation of Women
Pope Benedict has also included elements of TOB in many of his teachings, especially in his first encyclical, Deus Caritas Est (God is Love).
If the TOB time bomb has not already exploded, it is pretty darn close. In the last 20+ years, what could have easily faded into the past like so many other Church documents and papal audiences, or remained in the world of Catholic academia, reserved for graduate level theology dissertations and such, has been translated, interpreted and made widely available in easy to understand terms to the general Catholic public. It hasn't been without it's fair share of controversy or interpretive disagreements, nevertheless, it's nothing short of amazing to see such widespread enthusiasm to preach, teach, know, understand and, most importantly, live the Church's teaching on sexual morality – especially in today's culture!
As I said, there is an abundance of TOB resources for every level of understanding – books, pamphlets and, of course, many, many talks on CD and DVD. And, for those looking to get a really in-depth knowledge of the material there are even week-long institutional TOB courses. If you're interested in furthering your TOB knowledge, check out these websites for more information:
Ascension Press
Our Father's Will Communications
TOB Institute
TOB for Teens