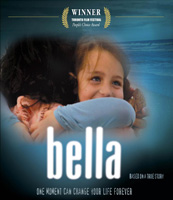 Last week Bella received more acknowledgment for its good work when actor/producer Eduardo Verastegui won for best actor at the 16th Annual Movieguide Faith and Values Awards. The movie itself was nominated for Top Family Film of the Year, but lost to Ratatouilli. Also, according to producer Leo Severino, Bella will soon be released internationally. It will be in Canada the first week of March, in Australia beginning Feb. 21 and Mexico on April 25. It will also make its way to South Africa, Israel, Spain, Italy and on Virgin America Airlines where all of the Latin American flights will show Bella.
This is great news not just for those countries, but for the filmmakers themselves! Bella has already grossed $7.9 million so far – surpassing the film's $3 million budget. More markets means more revenue and greater resources for advancing the mission of Metanoia Films at its inspired filmmakers, who reportedly have three projects currently in development.
I am pleased to say that Bella did make it to our humble little theater and this time it stayed for longer than a week. I tried to advertise as much as I could to our surrounding churches and organizations and I was told that the movie showed incredibly well. The day before the last showing last week I went to see it with a group of over 100 of our Jr. High youth group kids who all seemed to really enjoy it.
I never personally heard of any life changing or life saving experiences from the movie, but Leo says that they have confirmed that at least 12 mothers have changed their minds about aborting their babies after seeing the movie. So, obviously, the more people who can see this movie, the better.
Let us pray for these filmmakers and their future success in making movies that uphold the dignity of human life.
See also:
Pro-Life Group Takes Award-Winning Movie Bella to Ireland to Combat Abortion
Bella screening in UK by Knights of Columbus
The Swell Bella Fellas, on a Mission for God