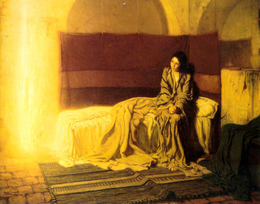 There's no question that Catholics know how and when to fast (obv, we're in the middle of Lent!). But, we also know how and when to feast! And today's Solemnity of the Annunciation of Our Lord is just such a day.
When I proudly declared that I planned on eating meat today in celebration of the conception of Our Lord, someone on Twitter asked whether I had permission from my Bishop. Let's be clear here: a solemnity is a day for celebration, not for penance. No dispensation or permission is needed to eat meat on a solemnity – even if it falls on a Friday…even a Friday in Lent. See Canon 1251.
That same person wondered if it was right to feast and if the world might not benefit from more fasting instead. I understand their point. As Catholics, we are accustomed to offering sacrifices in union with the Cross for our own faults and the faults of others – especially during Lent! These sacrifices are important and more certainly is needed (just ask Our Lady of Fatima). However, as I said, there is a time to fast and a time to feast.
Of course, no one is obligated to not observe today as a day of abstinence and penance, but in a world that largely does not celebrate conception and the gift of new life, I would submit that today, of all days, is an important day to celebrate and feast! What a statement against the culture of death would be made if every American Catholic would celebrate the conception of the Savior of the World with as much fervor as we do the feast day of the Patron Saint of Ireland – another (lesser) feast which falls during the solemn season of Lent. A few things:
First, obviously, the Annunciation marks the exact moment of the Incarnation, the Word Made Flesh. By the Incarnation Christ, the Son of God, intimately united Himself to the entire human race and revealed, in the words of JP II, the incomparable value of every human person. Not only did Christ elect to take on our human nature, becoming like us in all things but sin, but he chose to begin his life on earth as the weakest and most defenseless among us, an unborn child.
Because of this saving event we realize the splendor of all human life – including the unborn child and the unformed embryo. "[O]nly in the mystery of the incarnate Word does the mystery of man take on light" (Gaudium et Spes 22). Let us pray on this day that such innocent life may once again be preserved and protected in our Nation through the intercession of this Immaculate Mother, Patroness of our Land.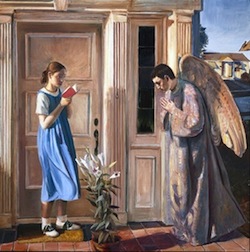 Second, let's ponder Mary's response to the Angel's message for a moment. Imagine that you are a young girl – roughly between the ages of 12 and 15 – not yet married and an angel of the Lord informs you that you shall be with child. This surely was not something that she would have ever expected and most likely did not understand at the time. It was also likely to cause her and her family great shame and scandal. But Mary, being "full of grace", surrendered humbly to God's will saying, "Behold, I am the handmaid of the Lord; let it be to me according to your word," (Lk 1:38).
All of the crises in the world today – sexual immorality, attacks on human life, etc… – are a crisis of sanctity. Of people living for themselves and not God, even choosing darkness when presented with the light. Mary's obedience undid the disobedience of Eve that lead to sin. This fiat is the antidote for what exactly what ails our society. Say yes to God!!
What's more, by accepting this precious gift of life, Mary become not only the Mother of God, but a supreme example to all mothers. Mary's role as the Mother of God reveals the dignity and sacredness of maternity – a role that is in many ways belittled and maligned by modern-day radical feminism. May all pregnant women imitate Our Lady's gracious acceptance of new life and all women have recourse to this perfect example of authentic femininity.
If none of that's not enough- to borrow a line from today's Morning Prayer: Today we celebrate the Annunciation and the start of God's work of salvation. It is the moment where God begins the process of restoring all things in Christ. If that is not a reason to feast, I don't know what is.
Therefore the Lord himself will give you this sign: the virgin shall be with child, and bear a son, and shall name him Immanuel (Is. 7:14)
The Annunciation – Luke 1:26-38
In the sixth month, the angel Gabriel was sent from God to a town of Galilee called Nazareth,to a virgin betrothed to a man named Joseph, of the house of David, and the virgin's name was Mary. And coming to her, he said, "Hail, full of grace! The Lord is with you." But she was greatly troubled at what was said and pondered what sort of greeting this might be. Then the angel said to her, "Do not be afraid, Mary, for you have found favor with God. Behold, you will conceive in your womb and bear a son, and you shall name him Jesus.
He will be great and will be called Son of the Most High, and the Lord God will give him the throne of David his father, and he will rule over the house of Jacob forever, and of his kingdom there will be no end."
But Mary said to the angel, "How can this be, since I have no relations with a man?" And the angel said to her in reply, "The holy Spirit will come upon you, and the power of the Most High will overshadow you. Therefore the child to be born will be called holy, the Son of God. And behold, Elizabeth, your relative, has also conceived a son in her old age, and this is the sixth month for her who was called barren; for nothing will be impossible for God."
Mary said, "Behold, I am the handmaid of the Lord. May it be done to me according to your word." Then the angel departed from her.
Now that that's settled. What's everyone cookin' up for dinner on this fine feast day? Might I suggest some meat wrapped in meat wrapped in…more meat??? 😉

Ok, perhaps that's going a bit far, but c'mon! Let's CELEBRATE the conception of Our Lord – an important feast in this age of rampant abortion-on-demand!!