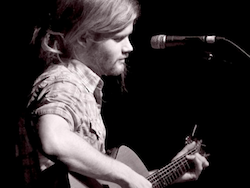 Tyler Blanski has an excellent column up on the CNN Belief Blog arguing that Christians can be a little too prude when it comes to sex.
chastity isn't firstly about rules and guilt, but about intimacy and joy – at the right time and in the right way. It's an expression of being created in the image of a relational God.

…

Christian sexuality at its best is actually an expression of what churchgoers call the trinitarian life – a holistic, all-encompassing, committed love, the kind of love we reach for in marriage.

A single person's sex life does not have to mean the sex act itself. It can be a harvesting of all that sexual energy and directing it towards something bigger than sex itself.

The sex life of a Christian single person is not having sex – yet. It's prayer. It's dating and learning how to love and listen better through relationship. It's the foreplay, so to speak, to the sex life God intends for us in marriage.
Love it! Read the rest.
Tyler is a Christian recording artist and the author of Mud and Poetry: Love, Sex, and the Sacred. Find out more Tyler, his must and his other writings on his website TylerBlanski.com