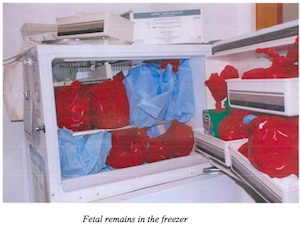 No doubt you've heard the horrifying news about Dr. Kermit Gosnell, the PA abortionist who has been charged with 8 counts of murder in the deaths of a woman – following a botched abortion at his office – along with the deaths of seven other babies who were born alive following illegal late-term abortions and then killed by severing their spinal cords with a pair of scissors. So sick, but, then, really, what do you expect? Accepting the premise that human beings have no right to life in some circumstances inevitably leads to justifying the termination of life at other stages.
But the news gets worse. A 281-page Grand Jury report was released yesterday morning revealing that authorities were alerted to Gosnell's "filthy and macabre" facility numerous times and did nothing. But, hey, it's legal, so that automatically means it's safe, right? Personally, I think the report speaks for itself, especially Section IV: The Intentional Killing of Viable Babies starting on page 99 and the pictures that accompany it. So I don't really have a anything to add to that – if you can stomach it – and what others have already been saying for the past two days. Check out:
Creative Minority Report's extensive piece on Dr. Gosnell's sordid history – from last year.
Gosnell; Baby Feet Kick the Nation
Gruesome Philly abortion clinic is the norm, not the exception
Lack of Gov't Oversight Led to Abortion Horrors
And do keep an eye on Jill Stanek's blog as she will, I'm sure, be keeping us all up to date as the story progresses. She's written several posts already, including: Kermit Gosnell, the Jeffrey Dahmer of abortionists, Kermit Gosnell's "bizarre" collection of baby feet and National Abortion Federation implicated in Gosnell case; failed to report illegalities to authorities