This image was hot around the pro-life/Catholic blogosphere (see here, for example) a few months ago. I love it! It's been my Facebook profile picture since the beginning of Advent: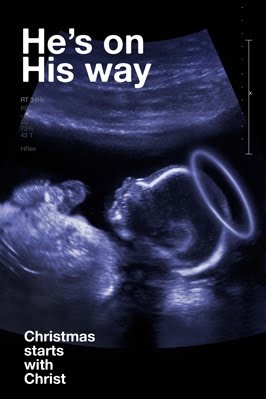 ADVENT PRAYER FOR LIFE
God of Life,
We rejoice in the promise of your coming.
You have sent your Son, born in Bethlehem.
He is the Prince of Peace, and
The one in whose name all oppression shall cease.
May we welcome his coming each day
And prepare for his coming at the end of time.
May we build a culture that welcomes him
By welcoming every child,
born and unborn.
We pray through the same
Christ our Lord,
Amen.
Just FIVE days left!! I don't know about you, but to me this Advent seems to have gone by very quickly. This Thursday my family and I will be escaping the cold Mid West and flying down to South Florida for Christmas where two of my cousins will be baptized next Sunday (I'm gonna be a godmother!).
Please keep us in your prayers as we travel. While you're at it, please say a prayer for my uncle and his family (a wife and 6 kids) in GA. Their house burned down Friday night. No one was killed or seriously injured, thank God, but there is little to nothing left to the house or what was in it.
Such a terrible thing to have to deal with at any time, but especially right before Christmas. It's been a rough couple of months for them, in more ways than one. I'm just hoping this ends up being a blessing in disguise…somehow. If nothing else, perhaps they can just see this as an opportunity to help them grow closer to Christ this Christmas as they can now kind of relate to the poverty of the Holy Family the night Jesus was born.
What are your plans this Christmas? I will be sure to say a prayer to St. Raphael for those of you who will be traveling as well!