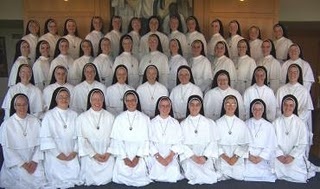 Today the Oprah Winfrey Show explored religious life with the Dominican Sisters of Mary, Mother of the Eucharist – a thriving religious community located in Ann Arbor, MI. For the show Lisa Ling, an Oprah reporter, spent a day – and night – with the sisters at their monastery in Michigan. You can read her story online as well as watch video of her overnight stay experience and a day in the life of the sisters. The sisters also have a slideshow of the event.
I watched the show this afternoon and these nuns did an awesome job! They handled themselves so gracefully (as, I'm sure, they truly are) and Oprah herself was, as you would expect, very respectful and probing. Of everything they discussed – daily monastery life, materialism, vows, etc.. –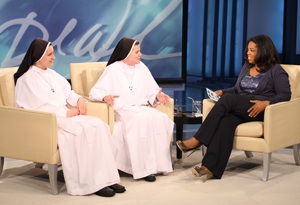 what seemed to impress Oprah most was discovering that the sisters consider themselves to be brides of Christ. That their habit is to them like a wedding gown that symbolizes their marriage to the Lord.
Perhaps the most counter-cultural aspect of Religious life for our sex-saturated world is the vow of celibacy. "You mean you don't have sex!? EVER?!!!" But, despite popular belief, celibacy is not a life of sexual repression. In fact, the call to Christian celibacy is a call to live out the very purpose and meaning of our sexuality here on earth. For more on this please see my previous TOB Tuesday post: "How do They Know? They're Celibates!"
Another shock for Oprah was learning that virginity is not a requirement for a celibate vocation. The Christian faith is all about repentance, forgiveness and Salvation. Just as all men fall – repeatedly -, so too are all men called to turn away from sin and back to God. One does not become a nun because she is already holy, but because that is the vocation by which God has chosen to lead her on a path to holiness.
The main point made by the sisters, and reiterated by Lisa Ling after her observation of the sisters' daily life, is that, whether you're talking about sex, poverty, silence or obedience, religious life is not about exchanging the "free" world for a life of repression, but rather finding true freedom by dedicating one's life to the One who alone can satisfy our every desire. Something even those of us in the world are called to do!
P.S. any female readers out there considering a religious vocation: there is a nice little Carmelite monastery in my hometown (Jefferson City, MO) with only about 7 nuns inside. Also, I have become good friends with one of the Poor Clare sisters at the San Damiano Monastery in Ft. Meyers, FL. They are also a very small community and could use some fresh, young faces!