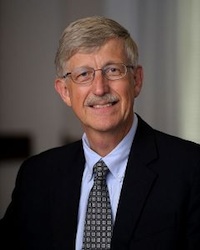 This was not a welcome sight this morning:
Pope Benedict XVI has appointed two prominent scientists to the Pontifical Academy of Sciences: Francis S. Collins, director of the National Institutes of Health (NIH), and Edward M. De Robertis, a chemical biology professor at the Howard Hughes Medical Institute at the University of California at Los Angeles.

Collins was a leader in the Human Genome Project and directed the NIH's National Human Genmore Research Institute from 1993 to 2008, according to his NIH biography. He has also written about the relation between science and faith in the 2006 bestseller "The Language of God: A Scientist Presents Evidence for Belief."

He has been an evangelical Christian since the age of 27. However, he is a supporter of human embryonic stem cell research who believes "therapeutic" human cloning could be acceptable, Discover Magazine reports.
h/t Luke Coppen – via Catholic Key on Twitter

**Update**
Mary Meets Dolly explains the purpose of the Pontifical Academy of Sciences and why Catholics should not be too bothered by this appointment:
The Pontifical Academy of Sciences is a body that is charged with giving the Vatican the most up to date, most scientifically accurate information regardless of religious (or non-religious) affiliation. It was established by Pope Pius XI in 1936 to promote the sciences and its members are some of the most heavy-hitting, Nobel-prize winning scientists of the 20th century, many of whom probably disagree with the Church on a great many things.
I figured that was the case.