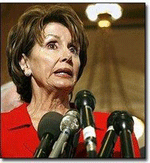 PORTLAND, OR, March 1, 2007 (LifeSiteNews.com) – "It is categorically impossible for the same person to state that he or she believes simultaneously both what the Catholic Church teaches and that abortion is just a choice," says Bishop Robert Vasa in a column released today by the Catholic Sentinel, the diocesan newspaper of the Archdiocese of Portland and the Diocese of Baker.
Though he did not mention her name, he was speaking specifically about House Speaker Nancy Pelosi. In an interview with Newsweek last October she was asked whether being pro-choice conflicted with her Catholic faith and she responded:
"To me it isn't even a question. God has given us a free will. We're all responsible for our actions. If you don't want an abortion, you don't believe in it, [then] don't have one. But don't tell somebody else what they can do in terms of honoring their responsibilities."
And earlier this year her daughter quipped that according to her Catholic school education, homosexuality and abortion weren't wrong, "They were just choices," nothing more.
To these claims, Bishop Vasa answered that there was a difference between a just and an unjust choice.
"An unjust choice would be to choose to terminate the life of another human being. This is not just a choice and it is not a just choice; it is an unjust choice. Furthermore it is an unjust choice which is diametrically opposed to the clear and consistent teaching of the Catholic Church as well as to the clear and consistent teaching of God Himself in the Ten Commandments. The direct, intentional taking of the life of an innocent human being is inhumane and unjust. It is not just a choice!"
True freedom, as a gift from God, does not consist in doing what we want, but in doing what we ought. When one chooses to defend or participate in an action that results in the killing of an innocent human being, such as abortion or embryonic stem cell research, it is a violation of the natural law and goes against the goodness and love of God – which is a truth written in the heart of every man.