Happy New Year and, more importantly, a blessed solemnity of Mary the Mother of God!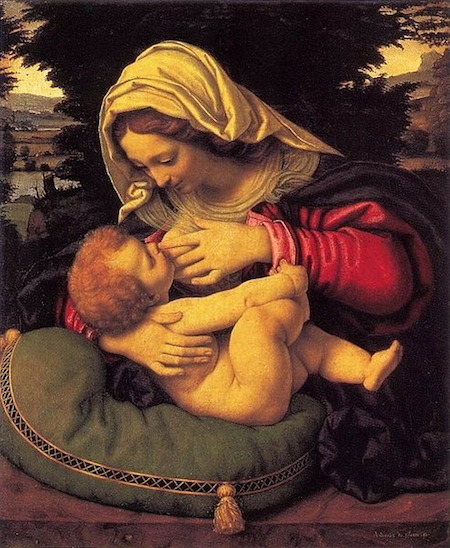 Andrea Solario, Madonna With the Green Cushion
The body is noble because the Son of God, in assuming flesh, did not do so by appearing in the full bloom and blossom of manhood. He thought so much of it that He took His Body from the body of a woman: "He took birth from woman" (Gal. 4:4). Like every body that He made, His, too, drew nourishment from her body and blood; like all children of men, was nursed at her breasts and remained with her for thirty years in obedience. It is thanks to a body that the world could see God in the form of a man; it is thanks to a body that this God-man could utter the sweetest word that has rung down the corridors of history: "Mother." (Ven. Fulton Sheen, Three to Get Married)
"Blessed is the womb that carried you and the breasts at which you nursed" (Lk. 11:27) Holy Mary, Mother of God, pray for us sinners, now and at the hour of death. Amen.