This week the Center for Bioethics and Culture, producers of and the award-winning Eggsploitation (2010, 2013) Anonymous Father's Day (2011), and Breeders: A Subclass of Women?, announced the release of their new documentary short, Eggsploitation: Maggie's Story. Maggie's Story explores one woman's journey through egg donation — and its consequences.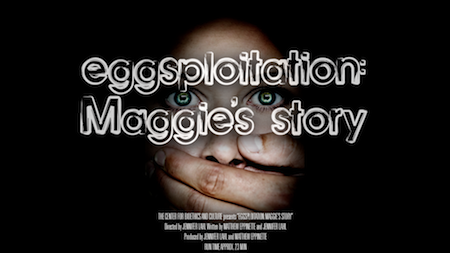 Maggie was told how special she was, but was never informed of the risks egg donation posed to her own health and wellbeing. She was used repeatedly for others' gain, but when things turned bad, she was left on her own to navigate tests, treatments, surgeries, and an unknown prognosis. Maggie's harrowing story shows how the medical professionals she trusted ignored abnormal health signals along the way, all for their own financial profit. Sadly, Maggie joins the ranks of other young women harmed and hurt by egg "donation," and left forgotten.
Stories like Maggie's are what make pro-lifers and pro-choice feminists strange bedfellows against the exploitative and grossly unregulated fertility industry.
Maggie's Story is available world-wide on demand on Vimeo.
See also: Raising Daughters in the Brave New World