"Man…cannot fully find himself except through a sincere gift of himself" Gaudium et Spes, 24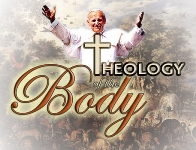 Continuing on the theme of the "nuptial meaning of the body" from last week — JP II on the nuptial (spousal) meaning of the body, the freedom of the gift and the very meaning of our existence:
The revelation together with the original discovery of the "spousal" meaning of the body consists in presenting man, male and female, in the whole reality and truth of his body and his sex (they were naked), and at the same time in the full freedom from all constraint of the body and of [its] sex. A witness of this seems to be the nakedness of our first parents, interiorly free from shame. One can say that, created by Love, that is, endowed in their being with masculinity and femininity, both are "naked," because they are free with the very freedom of the gift. This freedom lies exactly at the basis of the spousal meaning of the body. The human body, with its sex — its masculinity and femininity — seen in the very mystery of creation, is not only a source of fruitfulness and of procreation, as in the whole natural order, but contains "from the beginning" the "spousal" attribute, that is, the power to express love: precisely that love in which the human person becomes a gift and — through this gift — fulfills the very meaning of his existence. We recall here the text of the most recent Council in which it declares that man is the only creature in the visible world that God willed "for its own sake," adding that this man cannot "fully find himself except through a sincere gift of self" [Gaudium et Spes, 24:3]. (General Audience of January 16, 1980, TOB 15:1).
Worth revisiting:
The Spousal Meaning of the Body and God's Will for Man