Must read from Debra Saunders in response to an article about a Bay Area couple who paid an Indian woman to carry their child: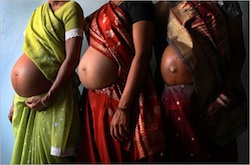 I don't think they're bad people. I think the Kowalskis represent a prevalent view in American society – that when affluent childless couples want to have a baby, they have a right to have a baby, indeed, the exact baby they choose. If their decision risks the health of poor women, well, that's OK, because the couple is acting out of love.

And if they sign a contract that turns a desperate woman into a mule who carries a child at the will of others? That's OK too, because the couple paid good money that will help the poor woman's family.

And if the poor woman is torn apart because she has bonded with the baby inside her? Doesn't matter, the mule signed a contract.

The Kowalskis aren't bad people. They're decent people who live in a bad culture that tells them that outsourcing the gestation of their test-tube babies is a good thing. It's a win-win.