Part II of Fr. Peter West's look at homosexuality and the Theology of the Body: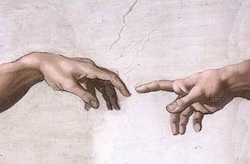 True love is demanding. The source of the beauty of this love is its demanding nature. That is why true love builds up the true good of man and allows it to radiate to others. St. Paul gives us the definition of love in 1 Corinthians 13: 4-8:

Love is patient, love is kind. It is not jealous, [love] is not pompous, it is not inflated, it is not rude, it does not seek its own interests, it is not quick-tempered, it does not brood over injury, it does not rejoice over wrongdoing but rejoices with the truth. It bears all things, believes all things, hopes all things, endures all things. Love never fails.

We first learn about love through our parents. Love involves giving ourselves to another. Love helps us grow and mature as persons. True love builds up the good of persons and communities. A good healthy, loving family will have an effect not only on the family members, but the whole community. It is difficult for a person to love who has never experienced love.

Perhaps this is why there is so much confusion about marriage today. So many people have been raised in broken homes. Divorce rates have skyrocketed since the advent of contraception and the "sexual revolution" in the 1960s. But young people are not condemned to repeat the mistakes of their parents. Instead of forsaking marriage for fear of divorce, we need to look back again for God's original plan for love, sex, marriage and family life that is written on the heart of every man and woman.