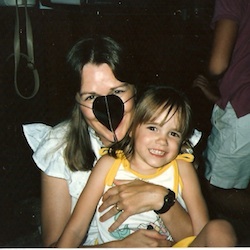 The very soul of a woman is meant to be maternal. –Alice von Hildebrand
On Facebook this year everyone has been posting pictures of their moms in honor of Mother's Day. This is the one I put up of me and my mom. Don't ask me what she's got on her face. It's from the birthday party of a friend of my parents many years ago, but I thought it was cute.
Thank you, Mom, for choosing life and for helping me, through your own steadfast faith, to see and desire to live the way to life eternal!
God bless all of you mothers out there – biological, adoptive, spiritual – and every woman who has been a positive influence in the life of a child!
Mary, our Mother, Mother of God and the Queen of all mothers, we love you! Pray for us!
Charm is deceitful, and beauty is vain, but a woman who fears the Lord is to be praised.
-Prov. 31:30