Folks, our culture is in desperate need of "sexual healing" as Christopher West explains in this brief video clip:
Help facilitate this healing by sharing the good news of the Theology of the Body this Christmas. One of the best resources is Christopher West's book Good News About Sex and Marriage. I have given away a number of copies over the last few years and always keep a copy on hand for the next person I meet who needs it. It is good for TOB beginners and those who may be living outside the Church's teaching on human sexuality because it answers very specific questions and objections that people have about her position.
A slightly more detailed introduction to TOB can be found in Theology of the Body for Beginners and, for those who may not take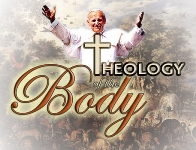 the time to read a whole book, the 2 cd set God, Sex and the Meaning of Life (I have a copy of this on my computer, along with the even shorter and more simple And the Two Become One, that I burn and give to people just as frequently as Good News).
Straight Talk About Sex is a great talk for young adults in which Christopher West uses pop culture to explain how our culture has been fooled into accepting such a twisted view of sexuality.
Ascension Press has many other TOB materials to choose from, depending on your audience, including a Marriage preparation program, for any engaged couples you might know, Theology of the Body for Teens, a seminar for priests, talks specifically about men and women and so much more.
Parents, do not hesitate to read and listen to this material with your children! I was surprised at how many girls in my TOB study group at Ave Maria University said that they had listened to Christopher West talks with their mothers when they were in high school. Teaching our children purity can start even younger with these great books by Jennie Bishop: The Princess and the Kiss and The Squire and the Scroll. Lesson books are available for Bishop's stories here and here.
Last but not least are Carmen Marcoux's novels Arms of Love and Surrender about chastity and courtship. My aunt was so impressed by Arms of Love that she said that she will make it required reading for her homeschooled children!
It is an illusion to think that we can build a true culture of human life if we do not help the young to accept and experience sexuality and love and the whole of life according to their true meaning and in their close interconnection (Evangelium Vitae n. 97)