Over at Patheos, Rep. Rebecca Hamilton, a pro-life Democrat, gives the one of the best Planned Parenthood "war on women" smackdowns that I've read yet: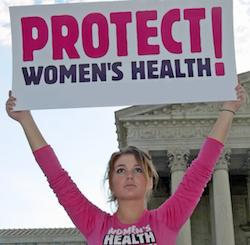 Planned Parenthood and their allies in the media and politics have so warped the issue of women's health that they have cast the debate entirely around what is good for Planned Parenthood. Anything that is deemed bad for Planned Parenthood is immediately characterized as an "attack on Women's Health." In fact, in the current presidential election, this has been broadened to mean that anything that is bad for Planned Parenthood or that even disagrees with one of their objectives, is part of a "War on Women."
…
When you have people who claim that they own the whole question of "women's health" but who don't report sexual abuse and rape of minor children or human trafficking, you know you are dealing with a callous and deliberate lie. When you see people who won't "judge" attempts to buy an abortion to kill a baby simply because she is a girl saying that anyone who wants to reduce their government funding is "waging war on women," you should be able to see that the real issue is not women and their well-being but government money.
…
The truth of the matter is that Planned Parenthood has become the sole voice for "Women's Rights" within the Democratic Party, despite the fact that it was never a women's rights organization. From its founding to the present day, Planned Parenthood has focused on issues of population control to the exclusion of what is in the best interests of women.