Two words: Mother Dolores (aka the "nun who kissed Elvis")!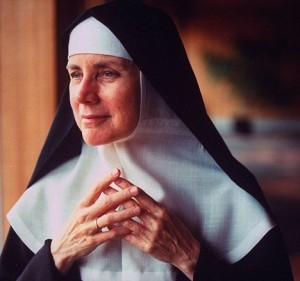 After Nicki Minaj's attempt to be edgy at the Grammys by mocking the Catholic Church wearing a nightmarish red habit and accompanied by a man dressed as the pope, another woman will be gracing the red carpet in full habit at Hollywood's next big awards show tonight. Only this one's not wearing her habit to mock the Church, but to show her great love and devotion to it. Talk about 'edgy'!
Hollywood take note: God is Bigger Than Elvis…and Clooney, Spielberg, Scorsese and, yes, even Streep!
Of course, I think chances are pretty good that her presence there won't get recognized on any of the pre-Oscars red carpet shows. But I'm tuning in, anyway. Just in case! 🙂
The Oscar nominated documentary about Mother Dolores, God is the Bigger Elvis, will premier on HBO this April.