Over at Catholic Lane, Mark Pickup writes about the importance of Christian perinatal hospice: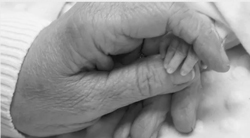 There are expectant parents who face the terrible reality that their baby will be born with a terminal condition. They are usually told after a prenatal test and are given the choice of continuing the pregnancy or aborting their baby. Parents are often pressured to make their decision quickly, particularly later in pregnancy, given the complications that can arise. The problem is that they are overwhelmed by the devastating news; they are hardly in a position to make such a heavy decision.

According to Bill Saunders of Americans United for Life, only twenty percent of couples will bring their pregnancy to term.[1] Saunders also reveals that parents who chose abortion have deep regrets. Perinatal hospice can provide options that comfort, nurture and support for parents and also honours the humanity of their babies.

Perinatal hospice provides a continuum of medical, emotional and spiritual support and nurture for the family and their terminally ill baby. Working in concert with the obstetrical team, the perinatal hospice team provides support the family — in as much as they choose. It is important that perinatal hospice be Christian to help ensure the sanctity of all lives are upheld.
According to Mark's resources, in areas where perinatal hospice programs are available, a significantly larger percentage of parents facing a terminal prenatal diagnosis, will choose the perinatal option over abortion. Seems like a good thing to me! Though, I've heard some express concern that opting for hospice, while it's better than abortion, is still like giving up on the child's life when you could be looking at treatment options, instead. Many don't realize that some so-called "terminal" diseases that unborn children are diagnosed with, like Trisomy 18, for example, can actually be treated in many cases and the children who have them can live for several years. Bella Santorum is an example of such a child.
I'd say both are necessary. On the one hand, yes, emphasis should be on treatment of the disease when it's possible. At the same time, though, when treatment is not an option, there should be standards in place for caring for the newborn child and her parents as death approaches.
Either way, one this is certain: doctors need to stop looking at sick unborn children as diagnoses and start treating them as members of the human family who are entitled to care, not killing.
What do you think? Is hospice good or bad? Praise the Lord, I've never had experience with hospice of any kind, perinatal or otherwise. But I've heard very mixed opinions from people based on their very mixed experiences. In fact, just last week on Twitter, in response to a story about assisted suicide in Switzerland, I got an @ reply from someone who said, "people die from assisted suicide everyday in this country, they just call it hospice." I think it all depends on the hospice and the people involved. Mark stressed the need for the hospice to be Christian. Is that the key? What do you think? Have you had any experience with hospice?