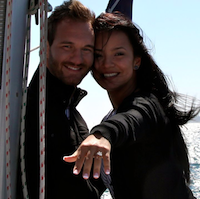 Via Facebook yesterday, Nick Vujicic announced his engagement to this beautiful young lady!! What a good lookin' couple! Congratulations, Nick and Kanae! May you be blessed with a lifetime of love together!
Nick is a world renowned motivational speaker and author of Life Without Limbs. Last year he starred in The Butterfly Circus, a short film with a beautiful message of hope and the dignity of the human person. The Butterfly Circus has won several film festival awards and is currently being made into a feature length film!
Check out Nick on Facebook and Twitter and send him your congratulations!!
Related:
Disabled People Are "Sexy," Too!
The Butterfly Circus on DVD!