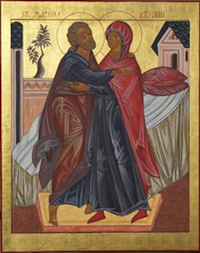 On this feast of Sts. Joachim and Anne, parents of the Blessed Virgin Mary, Christopher West shares his thoughts upon discovering the Eastern church's popular icon of the saints embracing with a marriage bed in the background (pictured right). They call it "The Immaculate Conception":
To be honest, I had never given any thought to the reality of Joachim and Anne's loving union. If I thought at all about the "coming to be" of Mary in her Immaculate Conception, the word "conception" made me think in terms of that miraculous event in the womb of Anne when the full merits of Christ's death and resurrection were applied "in advance" to Mary from the first moment of her existence (see CCC 491-492). But in terms of the union of Joachim and Anne that preceded the biological and theological event of Mary's conception, I never really considered it. I may have even thought one shouldn't consider it. Yet here, in this sacred icon – unbeknownst to most of us in the West the tradition of the Eastern Church holds up the chaste, loving union of Joachim and Anne as the main symbol for contemplation in the mystery of the Immaculate Conception.

What are we to make of this? It goes without saying, of course, that we must respect the important veil that surrounds the mystery of Joachim and Anne's embrace, as this icon does. With that respect as our starting point, at least one thing I think this icon leads us to consider is the possibility of real holiness and virtue in the marital embrace, not only as an intellectual idea, but as a lived experience. The marital embrace of Joachim and Anne, as chastely portrayed in the sacred icon of the Immaculate Conception, should help all married couples to aspire to an intimate life that is "full of grace." The conjugal act itself, John Paul tells us, as the consummate expression of the sacrament of marriage, is meant to be an expression of and participation in the "life 'according to the Spirit'" (see TOB 101:6), that is, in the very life of the Holy Trinity.
This was a new one to me, too. Did a Google search for St. Joachim and St. Anne together and found a few other similar pictures (click to enlarge):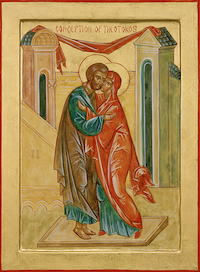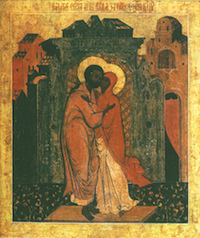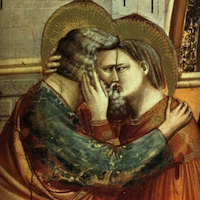 Sts. Joachim and Anne, wonderful example to married couples and parents, pray for us!