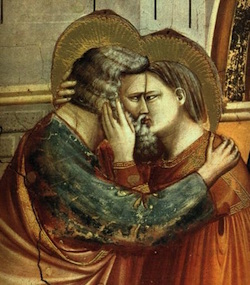 Since I didn't do a TOB Tuesday post yesterday:
The sanctity of married life is not something that takes place alongside of marriage, but by and through marriage. The vocation to marriage is a vocation to happiness, which comes through holiness and sanctity. Unity of two in one flesh is not something that God tolerates, but something that He wills. Because He wills it, He sanctifies the couple through its use. Instead of diminishing in any way the union of their spirits with one another, it contributes to their ascension in love. The union of two in one flesh is the symbol of the union of their souls, and both in turn are a symbol of the union of Christ and His Church.
-Fulton Sheen, Three to Get Married
Finally getting around to reading this book. It's definitely a must read for engaged couples or anyone who wants to get married someday.
Related: Keep Holy the Marriage Bed
IMG: Sts. Joachim and Anne by Giotto