I didn't watch a second of the royal wedding or any of the coverage on TV, but I did check out some photos online this morning and I am absolutely loving the elegant, modest and just lovely wedding dress that Kate wore (click image to enlarge)! And check out her sister and maid of honor, Phillipa (see front shot here). Randy Fenoli, Fashion Director for Say Yes to the Dress said, "She absolutely nailed it" and, the only man who's opinion really matters, told his stunning bride, "You look beautiful." American girls, take note, you and your bridesmaids can still be beautiful while keeping yourselves covered!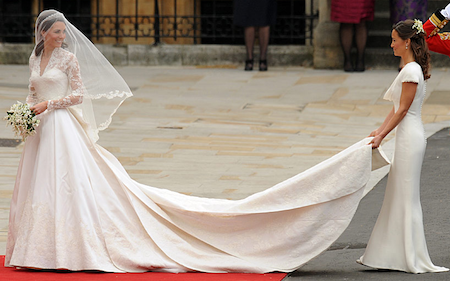 I second the prayer that modest fashion blogger Rebecca Christian said on twitter: Oh please Jesus, let Kate bring sleeves back.
Do be sure to read the sermon from the Anglican Bishop of London, which Katherine Jean Lopez called "an ode to Christian marriage and family life." And, for all the pomp and circumstance, KJL noted of the Christian wedding in general: "it's all complicated&imperfect, as we are,but it's a gift2have so many–& media–eyes internationally fixed on things eternal." Well, lets pray that Wills and Kate – who were "shaking up" before getting married – payed attention, at least.
Speaking of things eternal – don't forget, the beatification of JP II is this Sunday! See first images of his tomb being moved from the grottoes.