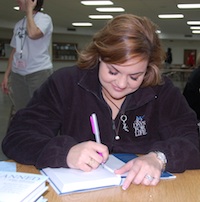 I've been waiting to do this for weeks!! When Abby Johnson was here in Mid-Missouri earlier this month, I got an autographed copy of her powerful pro-life conversion testimony Unplanned to give away to one lucky Reflections of a Paralytic (ROAP) reader!!
I'm sure many of you are familiar with Abby's story – how she used to be the director of a Planned Parenthood abortion clinic in Texas and had a change of heart after witnessing a 13 week old fetus fight for its life during an ultrasound-guided abortion in 2009. Now, just a few years later, she's one of the most well known pro-life advocates. She has exposed Planned Parenthood with numerous appearances on FoxNews and travels the country sharing her story and training pro-lifers to be effective sidewalk counselors (click here to see video of the "role-playing" part of Abby's sidewalk counselor training here in MO)!
Ok – now, for the rules of the giveaway. It's really very simple – just "like" the ROAP Facebook page and you're entered (those who already like it are automatically entered)!! Then, on Sunday I will use a random number generator to pick one lucky winner and post it on here and Facebook. That person will have 24 hrs. to email me their address, so that I can get the book in the mail to them ASAP!! If you do not have a Facebook account and would like to be entered, please leave a comment below – with your real email address – and I will add your name to the list. Sound good? Good. Be sure to also "like" this post (see below) and pass this on to all your Facebook family and friends!
About Unplanned
Read the first chapter
Previous posts:
Abortion Clinic Worker Sees the Light
Abby Johnson on Use of Graphic Abortion Images During Clinic Prayer Vigils