I really like this advice from Fr. McCloskey. Sometimes I think people spend an awful lot of time, too long, waiting and looking for that "perfect" person – their "one true love." But, ultimately, love is a choice, a commitment. A facebook friend of mine put it this way once: "marriage is not finding the "perfect person" but loving the imperfect person you choose to marry." And, as time goes by, that decision probably should be made sooner than later. Anthony Buono discussed this in a recent column for Catholic Exchange about those who are "too busy" to get married:
Life has a way of fooling us into thinking we have much more time than we really do, or that we will never die. How do we use our time appropriately and wisely in everyday life? As unmarried persons, how does time apply to the vocation of marriage?

On one hand, you need to take your time and make sure that the person you marry is a wise choice. On the other hand, you need to make a decision sooner rather than later. It's a catch-22.
None of this is to say that we should just "settle" for for the first person with whom we are mildly compatible. We should never rush to marriage. But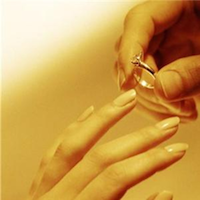 sometimes I think people can be too picky and, quite frankly, a little scrupulous in trying to find the exact right match for us. You should be realistic about our expectations (though certainly, some qualities are critical to look for – a commitment to God, a desire to to become a better person, grow in virtue, and forgive others and ask for forgiveness) and aware of the fact that the window of opportunity for starting a family is not open indefinitely. When you find someone with whom you are comfortable who has many of the attributes you would like in a spouse do not hesitate to move forward, to take the time to delve into the mystery of the other and love them…from this day forward until death do us part. If married life is your calling, don't waste time making the perfect the enemy of a good, suitable partner and the opportunity for a solid Marriage than can make you and your spouse a better person.
Of course one should never go it alone in the discernment process. Spiritual direction and a good deal of prayer are essential. Prayer to find the right spouse, prayer for your future spouse and prayer for union with God (our ultimate lover) in order to grow in virtue so that you become the kind of person that someone else wants to marry. As in all things, we must be proceed in a spirit of openness to God's will – not our own – while never being afraid to take some chances. And finally, I should also add that, while love is a decision, it is also a grace, which is why Marriage is a sacrament.
Buono has an excellent blog with a lot of good, practical advice for Catholic singles.
Also check out his YouTube account for more Road to Cana video clips like the one above
April 26th, 2011 at 12:53 am