Wow. I love a man who cares about his appearance, but this is a bit ridiculous. I'm not even really a fan of women going to some of the lengths described below to enhance their looks. From the UK Daily Mail: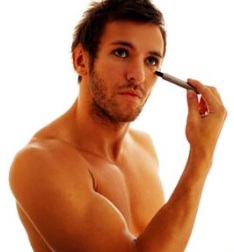 We've had guyliner and manscara but now we have the guylashes – false eyelashes for men.
…
Eylure – a brand endorsed by Girls Aloud and stocked in stores across the UK from Boots to Harrods – are selling fake eyelashes for men priced at £4.75 a pair.
…
According to market research company Euromonitor, U.S. consumers spent $4.8 billion on men's grooming products in 2009, double the $2.4 billion recorded in 1997.

Meanwhile the number of chemical peels, laser hair removals and other cosmetic procedures on men has increased by 45 per cent since 2000, according to the American Society of Plastic Surgeons.
…
Last year a survey revealed that more than three million men in Britain regularly wear make-up.
Great, now I'm going to have the Kinks stuck in my head all day:
"girls will be boys and boys will be girls, it's a mixed up, muddled up, shook up world except for Lola. Lo-Lo-Lo-Lo-Lola…"
If the world was mixed up in 1970, it's practically turned on its head in 2011. I don't know what's worse, "image conscious" men wearing makeup and "guylashes" or women to suppressing their fertility and all that makes them feminine in order to compete with men in the workforce. Nevermind. They're both equally disturbing trends.