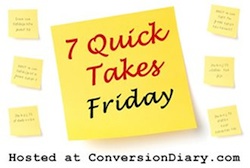 1. If you haven't read it yet, check out my column at the Patheos Catholic Portal: Refusing to Suffer is Refusing to Live
2. Nancy Pelosi is at it again.
3. A great article at the Daily Caller: Our media is fearless and intrepid — except when it comes to abortion
4. Josh at Just West of Crunchy writes: Thank you for menstruating. Keep it up. bonus: watch this hilarious SNL skit for "Annuale"
5. A Catholic hospital in Chicago has become one of the nation's first to adopt a practice of halting second-trimester abortions for women who change their minds after the procedure has begun.
6. Kathryn Jean Lopez writes at Townhall: Living in Misery With Abortion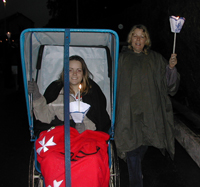 7. Here's a personal story for you: today is the feast of Our Lady of Lourdes. My mother and I went to Lourdes in 2003 with the Knights of Malta. I wish I could say it was a wonderful, life changing experience, but I don't even remember half of it…literally. About five days into the trip I got really sick and ended up having four grand mal seizures and spending five more days in a French hospital on very heavy medication. And, yes, this was after I had taken the "bath!" FWIW, I'm pretty sure I enjoyed the first five days (though I could have done without being stuck in this voiture, pictured here, during most of the time we spent away from the hotel).