Lately I've been reading Pope Benedict's third and most recent encyclical, Caritas in Veritate. The whole thing so far has been an enlightening read, but I was particularly struck by this passage I read recently: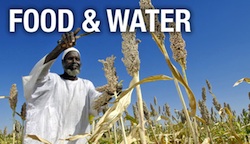 The right to food, like the right to water, has an important place within the pursuit of other rights, beginning with the fundamental right to life. It is therefore necessary to cultivate a public conscience that considers food and access to water as universal rights of all human beings, without distinction or discrimination (27)
Now, for the purposes of the encyclical, the pope is talking about the importance of trying to end world hunger. But, I can't help thinking here about the sick and disabled people who starve to death after being deliberately deprived of nutrition and hydration by doctors and at the request of their family members. A few recent examples that actually made it into the news:
1. In Georgia, Trisha Rushing Duguay, 27, had her feeding tube removed when she fell into a coma after failed attempt to remove a brain tumor – which had been discovered on the day of her wedding. She starved for 8 weeks before finally passing away. What I find a little odd about this situation is that they removed her feeding tube, but kept her on a ventilator. Why? If their goal was to "let her die" why wouldn't they have removed everything that was "keeping her alive?"
2. This one is even more disturbing (h/t Wesley Smith): In Canada a case study was presented to the 18th International Congress on Palliative Care about the "prolonged survival" of infants after withdrawal of nutrition and hydration and the "psychological distress" this causes parents and clinicians. Said Hal Siden, MD, from Canuck Place Children's Hospice in Vancouver, British Columbia:
"These babies live much, much longer than anybody expects. I think that neonatologists and nurses and palliative care clinicians need to be alerted to this."
Of the 5 cases that clinicians at his hospice had overseen over a 5-year period, 2 infants had severe neurologic impairment, 2 had severe hypoxic ischemia, and 1 had severe bowel atresia. After nutrition and hydration were removed, the babies lasted between 3 to 26 days before dying and it turns out (shocker) starvation is not easy to watch. While the hospice workers go to great lengths to take away the "sensation of hunger" so that there would be "absolutely no signs of discomfort" there's not a whole lot they can do about the "visual signs of emaciation."
"The longer a child lives, the more emaciated he or she becomes. This is something that we as clinicians need to anticipate. You can alleviate some of the physical symptoms, but this is one symptom, or result of our action, that we can't relieve. A critical factor for counseling is to anticipate the kind of suffering that comes with witnessing the emaciation. It isn't something people can prepare themselves for."
Well, what the hell do you expect?! You're starving someone do death!
Autopsies are often encouraged in such neonatal palliative care cases to help both parents and medical staff gain a better understanding of the reasons for the death, said Dr. Siden. Parents should be warned that the report will document the technical cause of death as "starvation" — a loaded word for all concerned. It is important that parents separate this word from any notion of suffering, he said.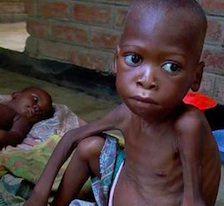 Amazing. Not only do they admit the fact that they are, in fact, killing these children – that starvation is the cause of death, but they're honestly trying to suggest that this method of killing is not as brutal as it looks and sounds. Starvation is a loaded word? Starvation should not be associated with any notion of suffering? I'm sorry, then should I not feel bad when I see the skeletal images of "starving" children in third world countries or want to send them aid for food?
According to Dr. Siden, the children they starve to death are surprisingly quiet and show "no overt signs of hunger behavior." That is why he is calling for…wait for it….further investigation into the "physiologic processes" that occur while babies starve to death so that clinicians can both "inform and reassure parents." Oh my. There really are no words to express how outrageously grotesque and eerily Nazi-esque this is. Starving babies and observing them for science – Lord have mercy on us.
What's even more tragic about these stories is that this happens way more often than we hear about. For example, according to this story about Trisha Duguay, Emory University Dr. Carisa Hines, Trisha's hospice doctor, said that the longest any other patient she'd treated had survived without any nourishment was 21 days. What? Exactly how many people has this "Dr." starved to death??? And Dr. Siden in Canada says this is an "everyday occurrence in the pediatric setting." Just because we don't hear about this much, doesn't mean that it's not going on. Let's face it, the only reason Terri Schiavo's case got so much attention was because her family was not in agreement about her medical care and those who didn't want her starved to death actually fought to save her life. But, with a few exceptions, that's just not always the case. Sadly, many people, not wanting to prolong their own suffering or be a "burden" on their families, even ask for this gruesome death themselves through written advance directives.
Nourishment and hydration ARE NOT extraordinary means of sustaining life! Even a healthy person needs food and water to stay alive. If a feeding tube is the only thing keeping someone alive, they are not dying, as these stories obviously show. Severely disabled? suffering terribly? sure, but they're still entitled to the basic human right to nutrition and hydration as long as they are available and they can contain them. In fact, denying them of these basic human needs can really only add to their suffering and discomfort – not to mention be an even harder sight for loved ones to bear.
The more acceptable the practice of withdrawing basic health care from the sick and disabled becomes, the more important it is for those of us who do not want our basic human rights violated to make our own wishes clear if we are ever in a situation in which we cannot speak for ourselves. Find out about "The Will to Live" at Priests for Life.