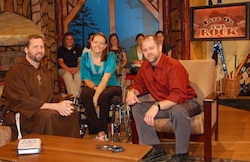 It was such a pleasure to meet both Doug Barry and Fr. Mark Mary, hosts of Life on the Rock on EWTN, the other week. I did not know this, but Fr. Mark has a blog called Power & Witness and in his most recent post he mentions my appearance on the show and reflects on suffering and growing in holiness:
This past week we had Chelsea Zimmerman on "Life on the Rock" speaking about the sanctity of human life. Chelsea is paralyzed from the chest down from a car accident when she was 17. Today, 11 years later, she works for her parents and finds time to blog on a number of pro-life issues.

I was deeply impressed by her positive attitude and her moving forward with life despite her disability. Her life after the accident entails some harsh realities and limitations, yet Chelsea focused on what she was still able to do. She made decisions about what was important to her and what was going to be the focus of her life. One of those decisions was to be close to God, and to try to order her life to God.

She was drawn to the message of St. Therese and her doctrine of spiritual childhood in dealing with weakness and suffering. St. Therese once said that, "The goal of all our undertakings should not be a task perfectly completed, but the accomplishment of the will of God." Sometimes we focus on what we do not have in terms of gifts and abilities instead of focusing on God's will in our lives. Childlike faith is to accept all things from the hands of the Father. As St. Therese once said, "Now, little children do not know what is best. Everything is right in their eyes."

We all are tempted to rebel at the suffering God allows in our lives. In and of itself, suffering is an evil. Ultimately it is the result of the disobedience of Satan, and Adam and Eve. But through the incarnation and the paschal mystery of Christ (His suffering, death and resurrection), God has redeemed suffering. He does not take it away or remove the pain of it. But He has made it redemptive through the cross of Christ. By faith, we can unite our cross with His, and, through the cross, we have a new likeness to Christ who suffered for us. He draws close to us in the midst of our sufferings.
Read the rest and do take some time to check out some of his other writings. He's got such wonderful insights!
Thanks for the mention, Fr. Mark! And thanks for a wonderful interview…we should do it again sometime 😉