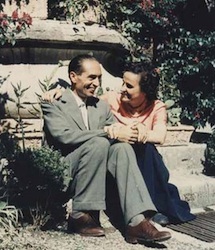 Pietro Molla, widower of Gianna Molla, a canonized saint, died on Holy Saturday last weekend at the age of 97. Coincidentally, it was on Holy Saturday that Gianna Emanuela, the child whom St. Gianna gave up her life for, was born in 1962.
Of course his wife is one of the greatest, modern-day witnesses of love and suffering, but for those who know the agony of losing a loved one way too early in life, Pietro himself is also an example of great faith in the midst of extreme sadness and suffering. In an interview for the book Saint Gianna Molla: Wife, Mother, Doctor, Pietro told Elio Guerriero:
When the mystery of pain came down on me and my children after Gianna's death and I felt myself crumble, I clung to Jesus crucified, to the certainty that Gianna lived with God in paradise.

A passage from a Dominican Father's sermon that I heard on Corpus Christi 1950 kept pounding at my mind: "The Eucharist is a great gift, a mystery, but the true mystery for man is pain." Besides, the Eucharist also springs from pain and death.

Think of our hospitals, to which sometimes we give only a distracted glance. There, we have whole cities of men and women who suffer, of children who die. What a great mystery!

Then there is the insidious question: there are people who could be saved but still die. Gianna could have been saved; her illness was not incurable, but she died. I relived this mystery of pain in an equally dramatic way when my daughter Mariolina died. Why does it happen?

I confess that for a long time I looked for an explanation for why the Lord had not accepted my supplications and those of my family and so very many others that Gianna's life be saved together with that of the baby she had borne…

I have been forced to conclude that pain remains a mystery even in the light of our faith, and I have experienced in myself that the only way to accept it is that of Jesus crucified…

Jesus is the one who has given security to me, and I have held on to him with all my strength. (pp. 88-90)
In many ways, the Church owes Pietro a debt of gratitude for allowing her to formally recognize the holiness of his wife – a decision that required him to make his pain public and then share the one and only love of his life with the rest of the world. Basilian Father Thomas Rosica, a friend of the Molla family, said on Sunday that Pietro, like his wife, was "a man of extraordinary faith, simplicity and holiness" who lived a "remarkable, saintly life." May his soul and the souls of all the faithful departed, through the mercy of God, rest in peace.
Previous posts on St. Gianna:
No Greater Love
St. Gianna on Suffering
My Morning Meditation With St. Gianna