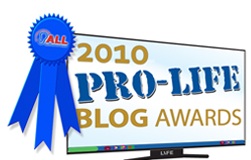 Congratulations to the 2010 Pro-Life Blog Award winners!
Best News and Reporting Award – Stand for Life
Pro-Life Instigator Award for Activism – Operation Rescue
Best Pro-Life Apologetics Award – Life Training Institute Blog
Pro-Life Whistleblower Award – Pro-Life Defender
Pro-Life Unity Award – Fr. Frank's Blog
And congratulations to Best Overall Pro-Life Blog – Catholic Fire!
I'm honored to have been a nominee again this year. Thanks to those who voted for me – maybe next year!
Please keep me an my family in your prayers. We'll be driving back to Missouri all day tomorrow. It looks like there is supposed to be some pretty nasty weather heading our way. We've had just a really wonderful time down here the past week! It's been a little chilly some days, but still BEAUTIFUL! Pics to come!