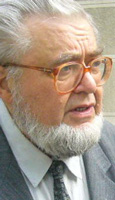 This amazing story (h/t: St. Blogaustine) of the conversion of one of Serbia's "abortion champions" proves that no one is beyond hope. After 26 years and 48,000 abortions, Stojan Adasevic began to be visited in his dreams by St. Thomas Acquinas and all of the children he had killed over the years:
In describing his conversion, Adasevic "dreamed about a beautiful field full of children and young people who were playing and laughing, from 4 to 24 years of age, but who ran away from him in fear. A man dressed in a black and white habit stared at him in silence. The dream was repeated each night and he would wake up in a cold sweat. One night he asked the man in black and white who he was. 'My name is Thomas Aquinas,' the man in his dream responded. Adasevic, educated in communist schools, had never heard of the Dominican genius saint. He didn't recognize the name"

"Why don't you ask me who these children are?" St. Thomas asked Adasevic in his dream.

"They are the ones you killed with your abortions,' St. Thomas told him.

"Adasevic awoke in amazement and decided not to perform any more abortions," the article stated.
The last abortion he performed was his cousin's girlfriends' ninth and his decision to abandon the practice was solidified when the baby's heart came out still beating during the procedure. He has since become an outspoken champion for life, but not without paying a heavy price. After announcing that he would no longer perform abortions he had his salary cut in half, his daughter was fired from her job and his son was denied entrance into the university.
Some might be asking, why St. Thomas? Adasevic suggests that he wanted to "make amends" for the error of writing that human life begins forty days after fertilization.